Me and my wife spent a few weeks in a (Subaru I think) micro camper travelling across Japan in spring and absolutely fell in love with it.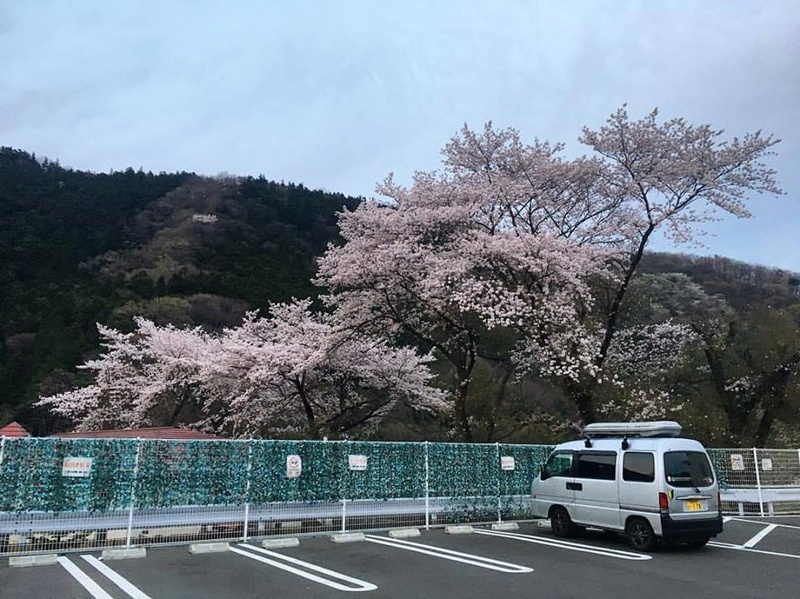 Since then I have been perusing various sites looking for something suitable for us. I was torn between getting a fully fitted camper, or a van to do myself. I am a carpenter/prop maker so the challenge, as well as being able to control the complete design of it appealed to me. Obviously standard vans can also be a lot cheaper.
After regretfully missing out on a few converted vans/devons, there was an unconverted van with an honest mention of the overheating problem (Which I believe is common? - and may be that requires bleeding which might be a pain, and may be the thermostat? Hopefully not the head gasket :/   )
Anyway, I won the auction blind and I am going to collect this little beauty tomorrow. Got it for £500 and thought it was worth the risk, having not seen it in the flesh or test driven it (Feel a bit crazy doing so, but the price seemed too good to not have a punt!)
Want to make it a little bit ridiculous on the outside - probably with a lick of paint and maybe upgraded wheels. My wife is a huge fan of Kerouac and the merry pranksters, so we have already decided to name it 'Even Further' in a progressive homage to 'Further' - their bus.
The inside will need to sleep the 2 of us (Both relatively slender), will need to transport 1-2 bikes (Outside or roof), and may need futureproofing by means of somewhere to sleep a baby - I understand a hammock type affair above the front seats is sometimes done. (Haven't figured out how said baby would be transported yet.)
I will no doubt be asking for advice and help on here once I get going with it. I am not a mechanic (Have never even changed a tyre, but am practically minded and will be trying to learn and take on as much of that myself as well.)
In the meantime I just wanted to say hello and thanks in advance for all the useful information I will no doubt find on here!

George Sportif

Clubman




Posts

: 32


Join date

: 2017-09-21



Welcome to the group, hope all goes well and keep us informed...with more pictures as you seem to have got the hang of posting them.

Raggy

Jet Addict




Posts

: 1427


Join date

: 2015-05-25


Age

: 55


Location

: Doncaster



Thanks Raggy. Am collecting it tomorrow - there's a couple of knocks to the bodywork - it's certainly not pristine, but I will post some photos when I have it. Maybe start a project thread if that's the done thing?

George Sportif

Clubman




Posts

: 32


Join date

: 2017-09-21



That's the spirit, build threads are good, mine is the Restoration of Skylark one, just do a search for 'Skylark' and you will find various ones I've done.

Raggy

Jet Addict




Posts

: 1427


Join date

: 2015-05-25


Age

: 55


Location

: Doncaster



And I am always being told that I am the Jammiest buyer of Hi-Jets on the Forum. Usually am. But an 09 plate for £500 almost tops my best bargain.
An A reg Honda Acty Romahome, 1 owner from new and 47,000 miles for £50.
Owned and used it for almost 2 years then sold it for £3,750. You better not turn up with any more bargains, or you will be putting me to shame. Fat chance.

Good luck with your bargain. I hope that it isn't head gasket for your sake. Keep the pictures coming.
welcome

nice intro, and build thread would be nice to follow


scotia

Cinquecento




Posts

: 914


Join date

: 2014-01-27


Age

: 38


Location

: twente



I also took a punt on a Porter. A 2009 1300 for £1000. The alternator seized earlier ion the week.

boughtaporter

New Member





Posts

: 1


Join date

: 2017-11-17



I might be in the same boat. Had to bump start it twice today to get home. Feels really 'sticky' when driving and battery doesn't charge. You know how much it's gonna cost you to fix it?

George Sportif

Clubman




Posts

: 32


Join date

: 2017-09-21



Bit of luck I've got two Alternators then.

---
Permissions in this forum:
You
cannot
reply to topics in this forum