My Romahome demountable pod (single skin Mk1 - I have heard called an "eggshell") the grp area around the window the moulding is textured - at first I had thought someone in the past had been trying to do something or other, but then someone else said their's had the same texture finish.  I can only say it is almost as if the mould in this area had been a cheap grade of plywood.
The textured area is inside the black lines - using someone elses pic same type Romahome demountable pod.
Jon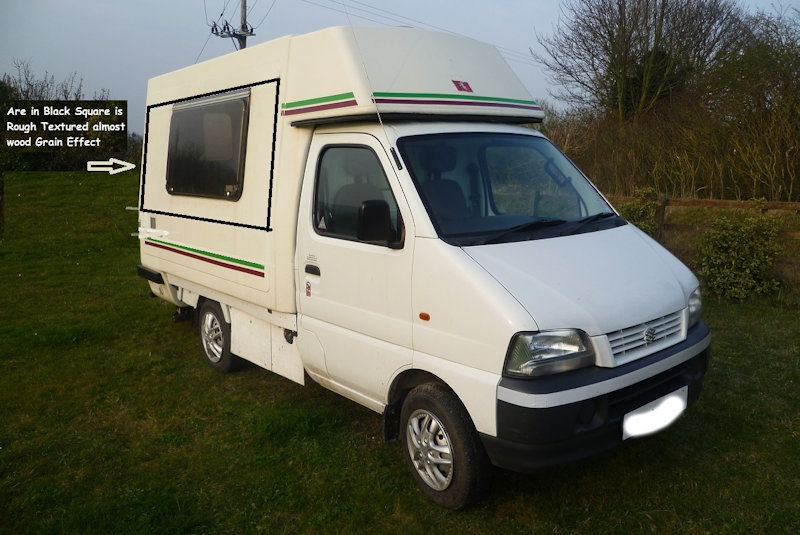 kernowjon01

Centurion




Posts

: 157


Join date

: 2018-02-14



Believe me Jon if you had worked with The Legend Barry Stimson as I have had the privilege of doing you would know that EVERYTHING Barry does is designed and finished to a very high standard. If you look closely at paneling below and above the window lines is certainly not plywood finish. Plywood is smooth. The reverse side of hardboard is stippled. But it certainly won't be what Barry used. The early shell you have with fixed windows was single skinned. When they introduced the Mk3 with opening Side windows they had to fit an inner skin with wooden framework in order to be able to fit the opening window fixings. It was insulated too which made the later ones much warmer and cut down the amount of condensation.

EVERY ROMAHOME that you see on the road has been designed by Barry from the drawing board up and I have been privileged to see lots of Barry's designs and the finished products. He has been a hero of mine since the 60's when he produced the mini engined Stimson Scorcher to the Safari Four and the Safari 6.
When I got the chance to join Barry for a month it was an amazing experience. Normally a very difficult man to work with, we hit it off right from the first introduction.

Barry designs the products and does the first mock up and then the project is handed over to a company that produces the plug and the mould. Barry assembles the first production vehicle and then the whole project is sold to Romahome who then put it into production.

Sadly the company is a shadow of its former self now. When I worked there for two years staff levels peaked around 70 but in the original Island Plastics set up in Ryde and Cowes well over 100 people were employed there. They built over 4,500 pickups based on the Vauxhall/Bedford Japanese Pick-Up for the RAC. Stood out with the green and yellow squares down the side of the Pickup bed.

I joined the company in 2002 self-employed - the only one allowed to as that is what I stipulated to my best mate Adam Coombes who was Romahome Manager. He is now back there with Brian Bailey who was the Commercial Vehicle manager..

Barry had just produced the new OUTLOOK based on the Berlingo. They had all the moulds to produce it, but needed a 15foot diameter Circular roll-over cage to hold both halves of the body mouldings. So it had to have casters and two frames each side that bolted together at the top and a couple of removable braces at the bottom. The Whole frame needed to be rolled from one side to the other for the Fibreglassers to spray the chopped and mixed Fibreglass resin composite to be sprayed on inside the body mould . It took me 3 weeks to build the frame two weeks of which was over the Factory Christmas and New year period working there every day on my own apart from the odd visit from Adam to see I was OK and drop in with some food. Good man!!

They were so pleased with the job and set me another problem to sort - the Double Skinned Ford Ranger pick-up tailgate. Which I built a new adjustable frame for it in 3 days. So after that I was part of the Family and 3 - 4 months later was made Service and Warranties Manager. Where I stayed for a couple of years until a downturn in sales and they had to lay off 10 people. Shame, because I absolutely loved the job.
Thanks for all that - yes I remember the Stimson Scorcher - a 3 wheeler the "right way around" as with the Morgan 3 wheeler (back in production) -
Incidentally Romahome are just launching a new model - R50 Generation (with French accents).
Sounds like you had a good time while you were there.
My thought is on the demountables why did they try the D20? Surely the market would have been for a Romahome version of the Sunseeker / North Star type demountable on a 1 tonne pick-up. Whereas the D20 around the big cab DSK was surely a bit iffy?
On Small Motorhame Forum Brian Bailey posts there sometimes also Ant - owner of Avon Motorhomes (Romahome dealer and servicing) until he retired at Xmas and the new Romahome dealer in Somerset.
Jon

kernowjon01

Centurion




Posts

: 157


Join date

: 2018-02-14



I haven't spoken to Ant Will for donkeys years. He was/is extremely clever with the hideous C15's. Heard last year that he was retiring.

I saw Brian briefly up at the factory a couple of months ago and he has lost a lot of weight. Looks really fit and healthy.
Woodie wrote:I haven't spoken to Ant Will for donkeys years. He was/is extremely clever with the hideous C15's. Heard  last year that he was retiring.
 
Ant did "retire" - Yes Avon Motorhomes is no more! I think Ant must be the only dealer to "retire" with a retirement present from his customers - Ant did. He still has a Help Board on Smallmotorhomes Forum.
However Howards Citroen have taken on the Romahome dealership - Ant has spent / is spending some time with them as an advisor / mentor.
https://www.howardsgroup.co.uk/romahome/
They are putting a lot of enthusiasm into the project even sponsoring Small Motorhomes Autumn Rally - so no rally charges

Needless to say fully booked in half a day.
Jon

kernowjon01

Centurion




Posts

: 157


Join date

: 2018-02-14



Remembered this morning that last time I spoke with Ant was when he had a customer in South of France who wanted an immaculate original Honda Acty Romahome and phoned me to see if I wanted to sell my A reg 83 plate Honda.

I had bought it from the original buyer in Bournemouth area who had done 47 or 49000 miles from New for the staggering sum of £50.

I did a total restoration job with a Mop on the Fibreglass and it looked absolutely amazing. I put full Mains Electric in it and a water tank with 12volt pump, full stereo system and lots of gadgets. I spent around £600 on it in all and used it myself for almost 2 years and sold it to the English man in France for £3,750. He flew up from France and came down to the IoW Ferry Terminal in Portsmouth on the train. We met and went to the town to his bank and he drew the pre-arranged money out.
He went off to the Channel Ferry Port and drove it all the way back down to France without a problem.
I got back on the IoW Ferry with a huge smile on my face and a nice wad in my pocket.

---
Permissions in this forum:
You
cannot
reply to topics in this forum