Hi all. I have a 98 1.3 efi van s85 which I have some issues with a groaning strut and rather than try to find individual parts i am going to replace the entire strut with a used one from a breaker. There is one advertised at a reasonable price. It only says daihatsu hijet 1.3 front right strut.no year or any other info. I have sent a message but have not yet received a reply. My question is, if it is a 1.3 hijet strut, could it still be the wrong one for my van? I am new to the van and am still finding my way. Thanks.

gazza01

Member




Posts

: 17


Join date

: 2017-12-13


Location

: Ascot Berkshire



Technically Gazza they are handed. The little bracket that holds the brake pipe is slightly angled or tilted. This is easily sorted with an adjustable spanner with the Jaws closed up to the thickness of the metal. If it is different then just a slight tweak with the adjustables forwards or backwards and job done.

As regards oil it's up to you with how much you want to spend. I use Semi Synthetic oil 10/40 in my MPV and have always put a can of Wynn's Supercharge or Oil Treatment directly into the Oil Filter. It is so thick and gooey that I put the can on a radiator first to make it much more easier to tip into the Filter. But the rest of my vehicles I have for 45 years usually bought the cheapest available and changed it every 4-5 thousand miles. Keeps the engine cleaner that way.

But I have just recently started using ZX1 Oil Additive again and it is amazing stuff. See my post     Is this filter really worth £20 ??
It will cost you £18-72 delivered to your door for a 250cc bottle. It will last for 20,000 miles before a refill so that is £1 per 1000 miles but can save you 1-2 mpg of petrol as the engine is so much more friction free.
Speak to Sandra Munt and mention that you are from the Hi-Jet Forum. To me it is a no brainer. Superb stuff.

By the way, I was born in Wokingham Hospital and lived in Crowthorne for 10 years off the Nine Mile Ride and then moved to Winnersh. There is a huge housing estate on the Wokingham to Reading Road. It is called Woodward Close - named after my father who owned most of the land it was built on. You can Google it. It's pretty big.
Cheers for the info Woodie. Really interesting about the land over winnersh way. I will google it. What did your Dad do to get such an accolade? P.S Do you still do the fan bypass set up for the 1.3. My one is fine although the temp creeps up a bit in traffic. I think it maybe a lot worse come the summer months. If so is it an easy fit? I know you'll need the coin holder sent to you. Thanks again for your time. Kind regards. Gary.

gazza01

Member




Posts

: 17


Join date

: 2017-12-13


Location

: Ascot Berkshire



Basically he owned 15 acres of the land that a good bit of the  estate was built on on the North East side of Winnersh Halt Station. Our old house "Woodcroft South" is still there now.
Yes I still have the Fan Kits and yes they are pretty straight forward to fit. I don't bother with the coin holder now. It is so fiddly and time consuming. I suggest drilling a hole and mounting it on the flat section of the rear of the centre console.
Pictured here is a 1300 strut on the right and an early 993cc Strut.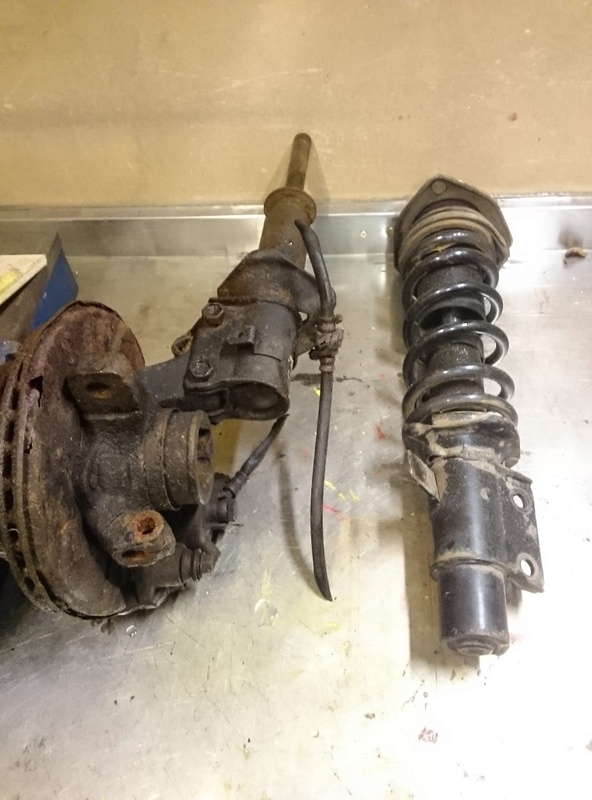 Great stuff thanks again for your time. Let me know how much for the fan kits please. I may aswell get it sorted before the weather warms up. Kind regards. Gary.

gazza01

Member




Posts

: 17


Join date

: 2017-12-13


Location

: Ascot Berkshire




---
Permissions in this forum:
You
cannot
reply to topics in this forum