Tin worm in your Hi-Jet Van or Pick-Up Petrol tank?? I recently needed a Van Petrol Tank for one of my sales vans. I was contacted by Chinfuk,  (yes,  I know I asked him that too) who is desperate for a Van Petrol Tank. My van failed the Mot on  too much Tin-worm on the Petrol Tank.  The only 3 van tanks I had,  got burned out in the fire last year and I haven't got a Van that I want to break for spares. BUT I did,  I am ashamed to admit,  have a 1200 Diesel van with a very good engine which is the only reason I have hung onto it. So for him and anyone else who has access to a welder or can get someone to do a very easy bit of MIG Welding - - this is for you.
Diesel Tanks tend to be in much better condition as there are usually Diesel leaks on the engine and with an engine driven cooling fan it tends to get blown back over the gearbox and the fuel tank.
The Diesel tank has the same bottom half as the petrol version including the anti-surge pickup in the bottom. The Diesel has a mechanical  Fuel Pump on the engine, so on the top of the tank where the Electric Fuel Injection Pump usually sits is a "Pregnant Bump". This needs to be removed. I drilled all around it, used a jigsaw and then removed most of the roughness with a Rotary Metal De-Burring tool in a Battery Drill. You MUST swill the tank out for diesel residue and metal filings before getting the Welding done.
Next on the Petrol tank,  I used an Angle Grinder with a Stainless Steel Cutting disc (1.6mm thick) to remove the Fuel pump surrounding areas. Then sat it on the Diesel Tank and marked the area on the Tank that needed cleaning up for Welding using a  (GRINDING DISC,  NOT THE STAINLESS CUTTING DISC).  
There are  two pipes on top of the tank which were fuel pick up and return. I have joined them together with a small length of rubber fuel pipe. The other pipe is for the vacuum pipe that the petrol tank has so connection is the same.
My Welder had packed up before the fire last year and I have so often needed one since then, particularly for any chassis Welding. Small Welding jobs I would take to Graham at Bonchurch Forge. He has got a Hi-Jet Pick-Up and needs spares now and again so we operate on a Bartering Scheme. Saves having to fork out. The Tank job would be a tenner if he had done it, but his Mig is too sizeable to transport. I got a quote from a Mobile Welder to do a little Welding job on the rear bump stop on the chassis. He wanted £150 to travel over and do the job after he looked at the photos I had sent him via WhatsApp. Stuff that. I just as well put that towards a new Welder for myself. Really pleased I did now.
So five weeks ago ordered a 270amp Oxford Welders MIGMAKER Welder  ( based in York)  It is only built to order, so hence the 5 week wait. I wasn't told that at the time. "About 10-14 days"  was the estimate  from the Retailer in Witney in Oxfordshire.  .  Here we are exactly 5 weeks to the day last Friday and it was delivered directly from the Factory. Flaming Henry!!  What a heavy bit of kit!!  It weighs around 160lbs or 72kilos. I won't be picking this blighter up and putting it in my MPV like I could with my previous 200amp Auto-Lynx BOC machine.
[url=https://servimg.com/view/19535230/392][img]
https://i11.servimg.com/u/f11/19/53/52/30/dsc_2612.jpg[/img][/url]
[url=https://servimg.com/view/19535230/393][img]
https://i11.servimg.com/u/f11/19/53/52/30/dsc_2711.jpg[/img][/url]
[url=https://servimg.com/view/19535230/394][img]
https://i11.servimg.com/u/f11/19/53/52/30/dsc_2712.jpg[/img][/url]
[url=https://servimg.com/view/19535230/395][img]
https://i11.servimg.com/u/f11/19/53/52/30/dsc_2713.jpg[/img][/url]
Damn. Forgot to press the Send All button. Sending them later on. Things to do.
You been busy. Hope you remembered to drain tanks first!

PFM

Jet Addict




Posts

: 1528


Join date

: 2010-04-24


Age

: 57


Location

: East Sussex



It was just my luck. The diesel van was surrounded by stinging nettles and brambles as it has been almost a year since the fire and I have been too unwell to get up to the garage very much. I doubt if I have been over there more than 20 times since then. So I had a right ole game getting it cleared up and jacked up and removed the Diesel Tank. There was over 5 gallons in it and I got a good soaking. 3 buckets full of diesel.

The van was the opposite. I don't know how I made it home from the Mot. Never had a problem with Welding fuel tanks. Just empty them out. Put an airline in and blow it through till you get fed up. Then stick a hair dryer in the filler neck or in the Hi-Jet case in the fuel pump hole. Always works for me.
I finished the Petro/Diesel tank a couple of weeks ago when after 5 weeks of owning the new Welder I finally got round to fitting it up with a 16amp supply and then discovered that the drive roller was for 1.0mm or 0.8mm Welding Wire and I have 5, 5kilo rolls of 0.6 and just found on Wednesday a 15 kilo roll.
So another delay for a 0.6/0.8 drive roller, but only another day as Oxford Welders put one in the post to me that afternoon and it did arrive the next morning.
So at last after nearly two years of not having a Welder, I could finally have a go at welding. It wasn't just the tank that was rusty. Took a bit of playing around with settings to get used to it. So finally got the Fuel Pump Mounting wielded in place. I then covered the welds with Wurth Black Polyurethane Sealant to make sure that it didn't leak. I wasn't going to risk my first rusty attempt at welding in two years leaking. So now it is ready to go back in place - - at last.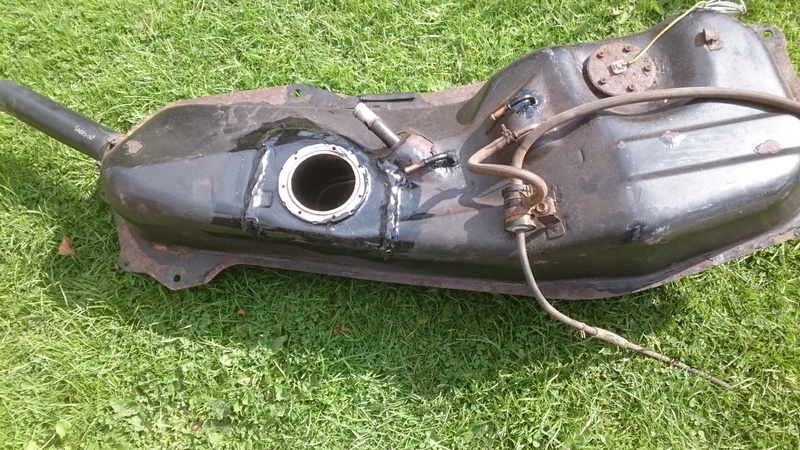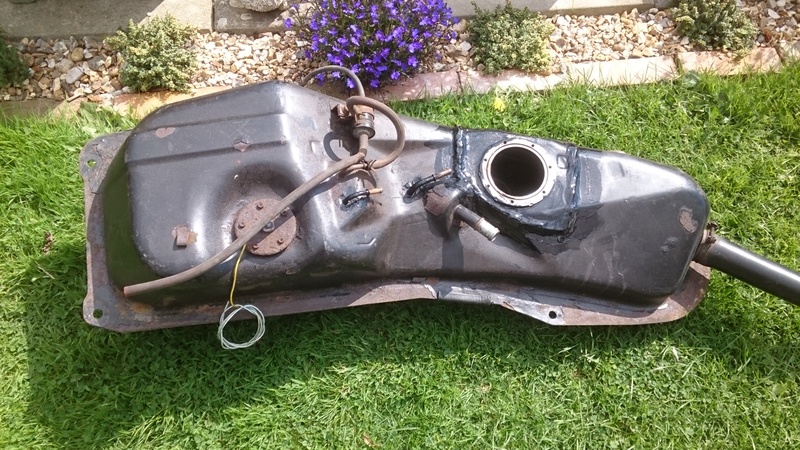 ---
Permissions in this forum:
You
cannot
reply to topics in this forum