Just post on here to say:-
My bike engine power Hijet is up for sale.
Aka the "Yamahatsu Die-Jet", also known as Ernie (The fastest milk float in the west)
Powered by an Yamaha FJ1200 engine, a one off Bike Engined 1998 Daihatsu Hijet Pickup.
It is will be listed on ebay as a classified advert in about a weeks time.
I am just waiting to get the V5c back as it had the wrong paint colour and address on it.
The v5c has the correct engine details e.g. CC and Engine number for the bike engine.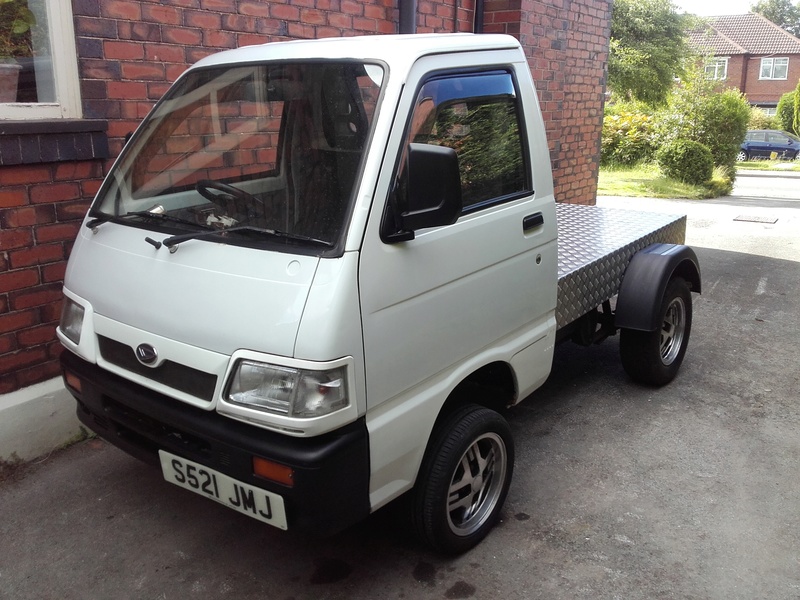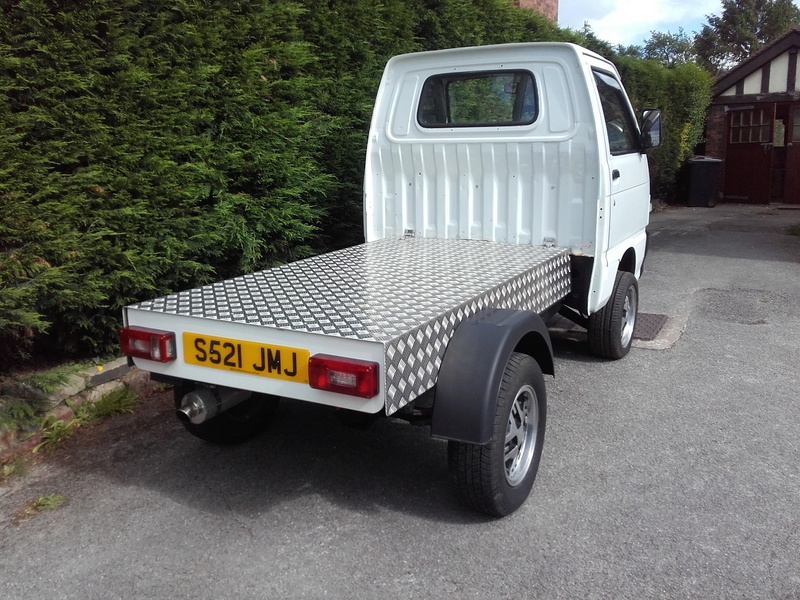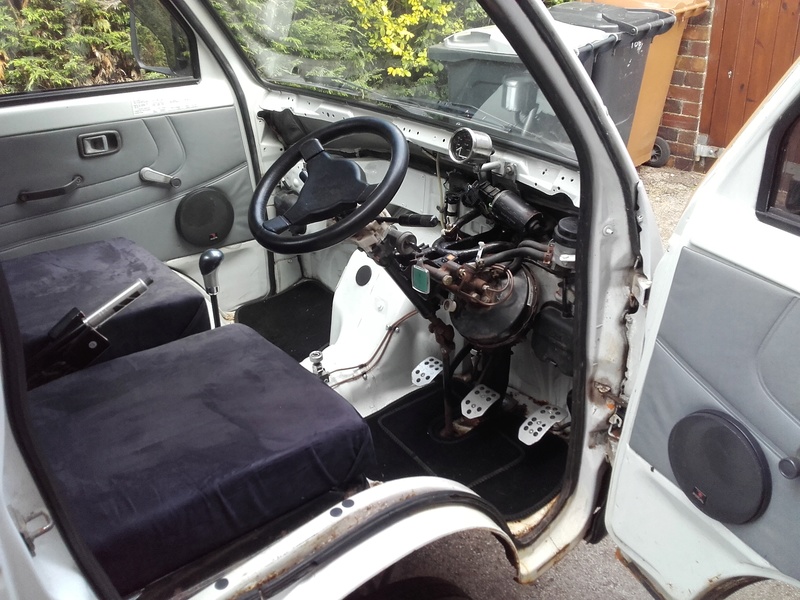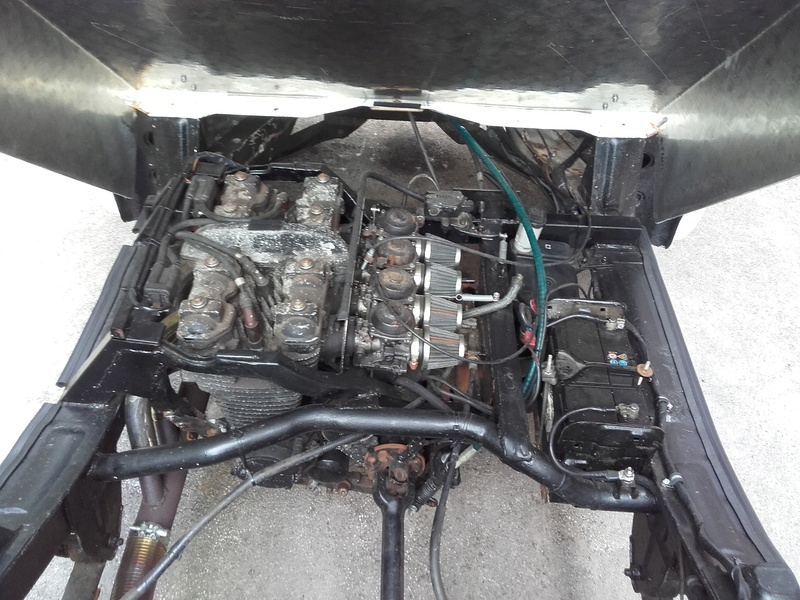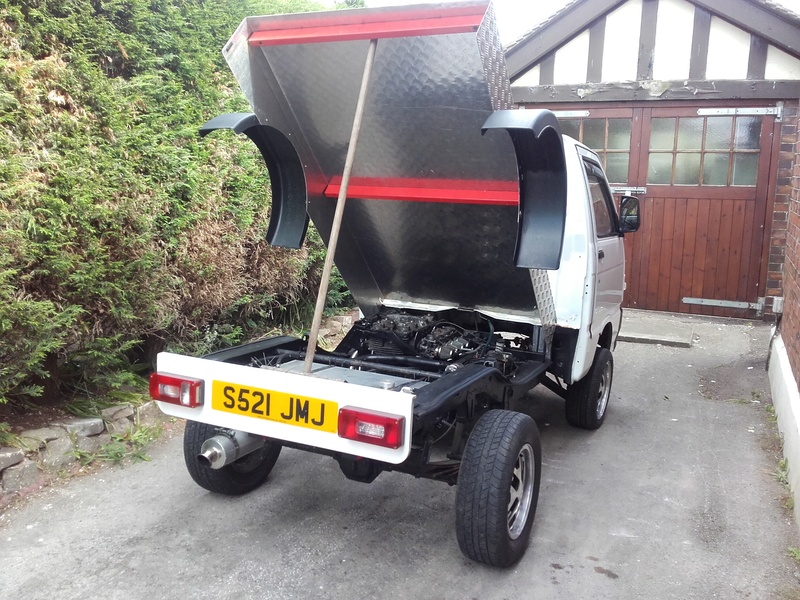 I built this in summer a couple of years ago over a few months worth of full weekends with a couple of willing able and experienced helpers, we had a lot of fun, and it was built for nothing but the love of a good fabrication project. Everything is secure and pretty well fabricated, robust welding, with good thought to structure and durability, it is not going to fall apart like some crow poo welded scrap heap challenge. We built it when I had access to a large fully tooled workshop and no life commitments. Now it sits around forgotten and ignored collecting green. This weekend I have stared it up, washed it and taken photos for this advert.
It has 5 speed fully sequential gearbox, as fitted to the original bike. So just push or pull the gear lever to go up and down the box.
Custom gear shift cable professionally made for the van, with custom gear linkage and modified original gear lever.
Custom clutch system where the pedal pulls a cable which activates the bikes hydraulic clutch lever.
It starts on the key, fuel pump and CDi powered by the key properly.
30 Litre Motorsport Allard aluminium alloy fuel tank with internal baffle, held in place with stainless tank bands.
Electric self priming fuel pump and inline fuel filter, quick release fitting to the carbs, braided hose and stainless clips.
Cone air filters, custom accelerator cable and throttle return spring.
In cockpit brake balance controller (on the floor), which limits pressure to rear brakes for easy adjustment.
Custom vacuum log which provides vacuum to the original brake pedal booster.
Mountney steering wheel on custom boss.
A external oversized motorsport oil cooler as seen in photos, fitted with braided hose and aeroquip fittings.
RPMRacingca oil filter flange adaptor allowing normal screw on car style oil filter. Same supplier for the sump adaptors for external oil filter.
1981 Mazda RX7 wheels hand polished, these are proper PCD4x110 wheels correct for the hubs, and the front hubs have been turned down to fit the RX7 centre bore.
Custom log type exhaust manifold and straight through exhaust. They will hear you coming!
Choke cable/button into cab for easy use.
Custom telescopic propshaft, with custom fabricated drive flange adaptor to attach to bike engine.
Custom rear light bar, number plate and hinged rear body made from alloy chequer plate professional folded and shaped.
Koso speedometer with integrated tell tales - but the speedo stopped working the first time it was driven as the magnet on the propshaft few off, but replacements are available!
Rear diff has been welded!!
Toyota Celica windscreen washer pump and bottle, as seen in the photos. New wiper blades.
Customised battery tray.
Handbrake works, as do the foot brakes, but it has not been used for 18 months so discs have rusted over.
The Yamaha's engine number and CC is correct on the Daihatsu Hijets V5c.
Aftermarket wind deflectors.
Brand new late model Piaggio porter wing mirrors.
New tailored floor mats.
Alloy boy racer pedals, gear knob and handbrake lever.
Brand new low profile front tyres.
Arrrrrrrruuuuuuuga horn !!!!!
Comes with 6 x Daihatsu Steel wheels with tyres, but not of the tyres are matching or upto much good, but handy for workshop use or maybe drifting.
Also comes with 1 extra Mazda wheel with tyre, it is fully polished but the tyre is not great.
thats such an awesome built, i hope it goes to a good owner.
if you want i will post a link to this add on the microvan page i run on facebook.
https://www.facebook.com/groups/1563060064003248/
you never know.. it has honda/subaru/daihatsu/suzuki/bedford microvan drivers.
anyway, good luck with the sale

scotia

Cinquecento




Posts

: 909


Join date

: 2014-01-27


Age

: 37


Location

: twente



I would love to drive this thing!!

tornas

Centurion




Posts

: 195


Join date

: 2016-03-07


Age

: 35


Location

: Amsterdam




---
Permissions in this forum:
You
cannot
reply to topics in this forum